We'll help you grow your new business from the ground up.
With decades of experience and a proven track record, our team will ensure everything from conceptualization to launch is brought to life successfully and efficiently.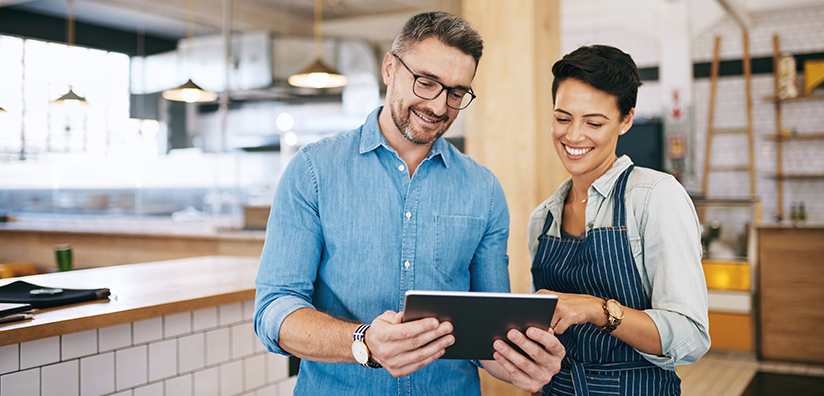 Option 1
Bookkeeping Services
With 24/7 access to a dedicated account manager, we're always available for your business needs. Our team of certified QuickBooks experts will help you organize your chart of accounts, ensure your operational systems are built correctly, build out a master list of documentation, and set up your invoicing and check printing systems.
When you choose our CFO Services for your New Operation, you'll have the option to get our bookkeeping offerings plus any of the services below. We'll help you assess your operation's needs to find out which will be the most effective for your business.
Annual Licensing & Permit Management
We help you obtain all needed permits and licensing, including ABC permits, health permits, business tax permits, food server management certification, backflow testing, fire extinguishers, and ADA compliance.
Food & Beverage Product Development
We help you create an enticing yet profitable menu. This includes creating items that use inexpensive ingredients, designing dishes that utilize the same components, establishing affordable vendor relationships, and much more.
Employee Issues
We train you and your staff on how best to quickly resolve any employee issues, and make sure you're responding to EDD claims appropriately. This helps you reduce your rates and stay in compliance.
Weekly Cost of Goods Reporting
We closely monitor your COGS (cost of goods sold) so when the price of goods go up, we can notify you immediately and take action to get your costs back down. Our CFO Services team will fix any discrepancies in weekly cost reporting, and continually audit and watch to ensure you're receiving all available credits.
Vendor Resources/Negotiations
We cut your vendor costs by working directly with your suppliers to negotiate better rates. With years of experience and insider knowledge, we are very aware of standard industry rates and will be in your corner for negotiations.
Cost Containment
We typically add 6-12% of profits to your bottom line with a thorough evaluation and overhaul of your current cost structure. We address every aspect of operations – cost of goods, labor rates, and more, to ensure you are running a lean and efficient business.
Policy & Operations Manual
We improve your guest experience and business performance by standardizing and streamlining objectives, procedures, job descriptions, opening and closing checklists, side work standards, and other key policies that are essential to any company in the hospitality industry.
Start-up Advisory Services
We help you avoid potentially devastating mistakes throughout the start-up phase of your restaurant. This includes helping with permits, interior and exterior design, recommended contractors, and more. We help you avoid the typical mistakes new restaurateurs often make.
Market Analysis
We assess your local market and analyze your competition to create a full market analysis report that you can refer back to as your company grows. This report will allow you to quickly identify your competitive edge and maximize it to your advantage.
Coaching & Counseling for Management
We help you hire, interview, and select your new staff and management team. With years of experience, we help you know what you're looking for in a candidate and conversely, identify red flags before it's too late. Furthermore, through ongoing in-person training programs with Cornerstone experts, your team will become more effective sales people and be able to provide a consistent, authentic customer experience.

Option 3
Daily Operations Partnerhip
Bookkeeping & CFO Services Included
When you choose to opt into our Daily Operations Partnership for your New Operation, you'll get everything your San Diego business needs from our Bookkeeping and CFO Services.
We enable you, a new business owner, to focus on why you started your business. With the Daily Operations Partnership, you get to enjoy the thrill of being a new operator without the stress of daily operations management. Our team oversees the procedures, business operations, employee training, and much more.
We'll make sure that your San Diego business meets all the necessary industry standards by conducting mock inspections to establish proper insurance coverage and affordable rates.
We'll handle all management operations and run the business as if it were our own. The goal with our Daily Operations Partnership is to build your foundation and guard your opening budget to ensure profitability. An investment in our team easily pays for itself by maximizing the profitability of your business through efficient operations and skillful management.

Our Add-on Options can be added on to any of the service options above. They consist of:
Marketing
Social Media Growth & Management
Website Design, Build, Maintenance, and Hosting
Public Relations
Business Review Management
Photography & Videography Services
Printing & Promotional Collateral
Secret Shopper Analysis / Evaluation
take the first step
get started today
Whether your San Diego business is a New, Struggling, or Successful Operation, we're in your corner. We are happy to create custom partnerships that cater to each business's specific needs and goals. Find out how we can help your business today!